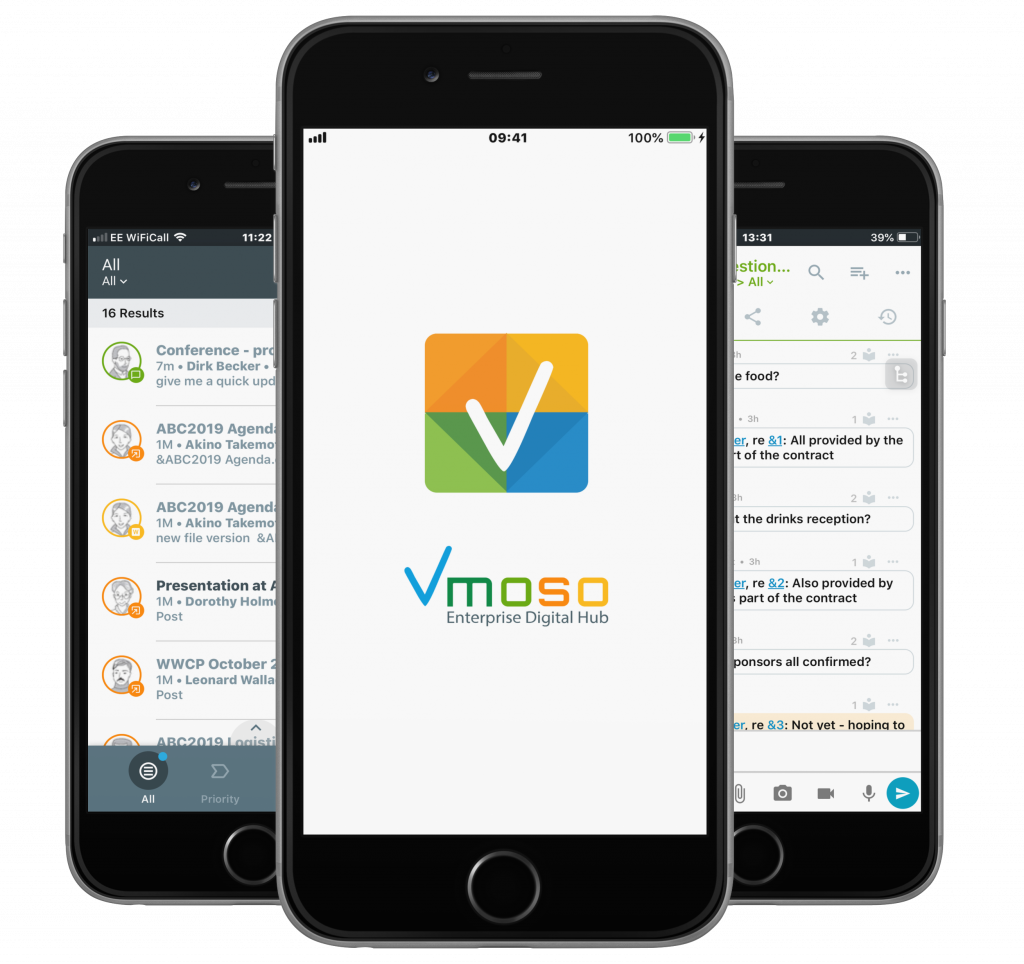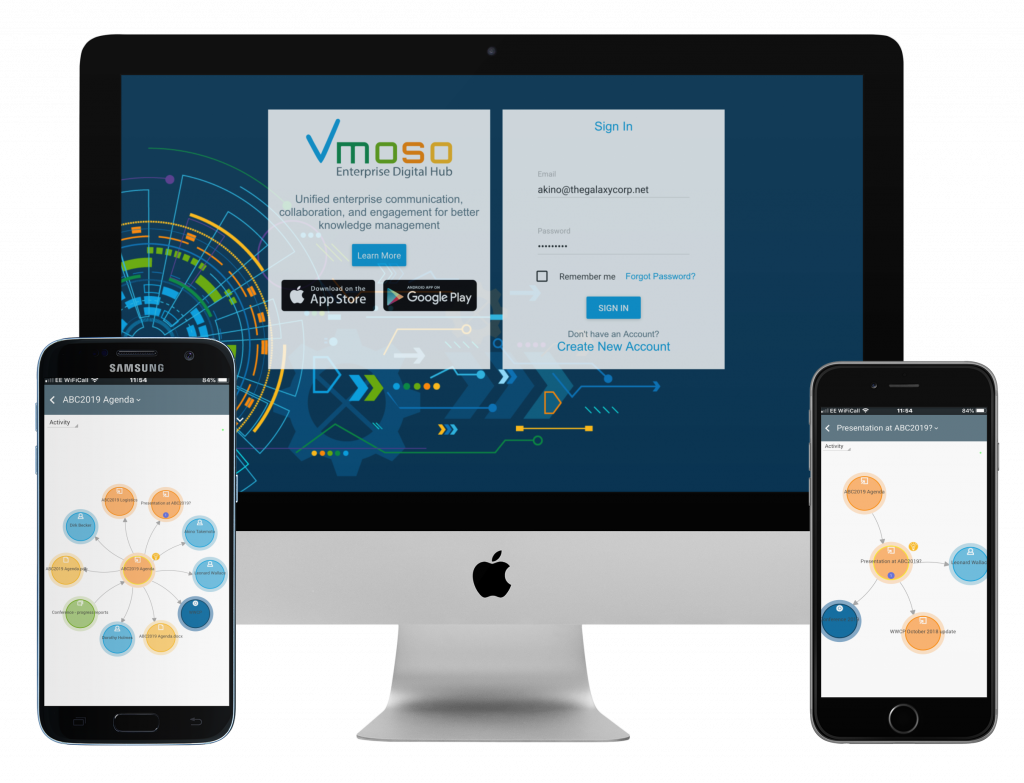 Vmoso unifies four important workplace concepts in one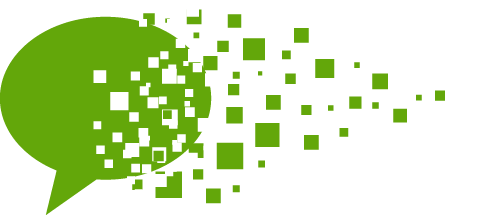 Vmoso's Unified Activity Management combines messaging, file sharing and social networking in a universal inbox, enabling you to stay focused on the discussions that really matter to you.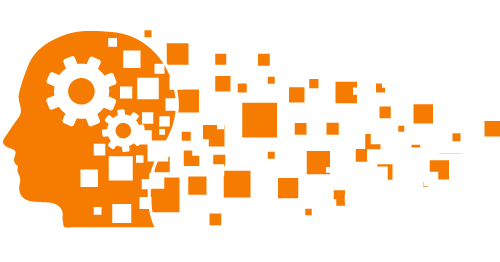 Today's conversations are tomorrow's knowledge. Vmoso's collaboration features have Big Knowledge Management built in, so everything you create now is retained and indexed for rapid access when you, or your co-workers, need it again.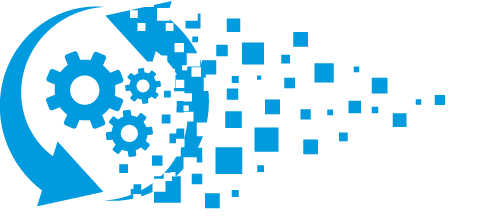 Add structure and accountability to your collaboration. Vmoso's Collaborative Process Management brings an end to chaotic, email-based collaboration. Everyone knows what they need to do, and when they need to do it.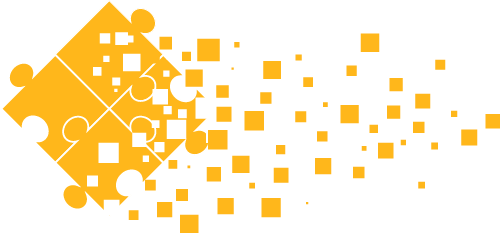 Vmoso is architected for integration. The last thing anyone needs right now is yet another standalone communication tool. The Vmoso Integration Bot connects the digital workplace to legacy communication systems like email, and into the systems of record that power your business.
Vmoso 2019 brings together the sophistication of Vmoso's platform for digital engagement with an intuitive new user interface, making Vmoso's powerful communication and collaboration features accessible to everyone
Communication and Collaboration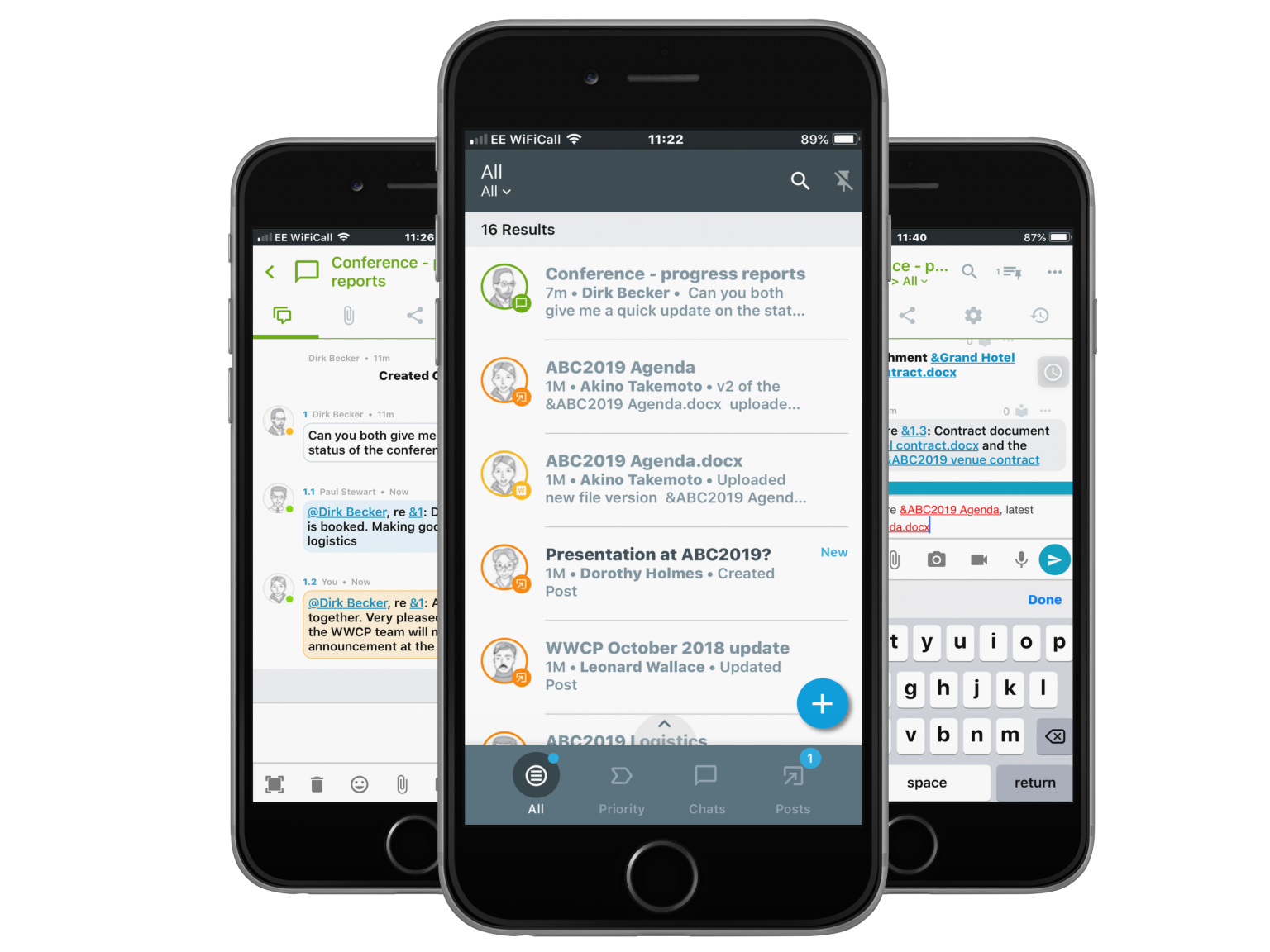 Real-time Communication
Chat, share files and post blogs in an instant—all on a mobile-friendly enterprise platform that doesn't rely on disconnected, unsecured consumer apps.
Universal Inbox
Acting as a universal inbox of business engagement, Vmoso allows users the freedom to collaborate in one interconnected environment for improved productivity, accountability and transparency.
Dynamic Content Sharing
Content can be instantly attached to activities and collaboration spaces. Files can contain text, images, links, voice and video. Content is shared rather than copied to maintain a "single source of truth."
Contact & Groups
Easily manage personal and corporate contacts, employees, partners and customers, and ensure knowledge continuity even when people leave the company.
Email Integration
As many organizations have found, the first step away from email is the hardest. Vmoso makes it easy, with comprehensive email integration. Email users can play a full part in a Vmoso-hosted discussion so they can wait until they're ready to make the move to Vmoso in their own time.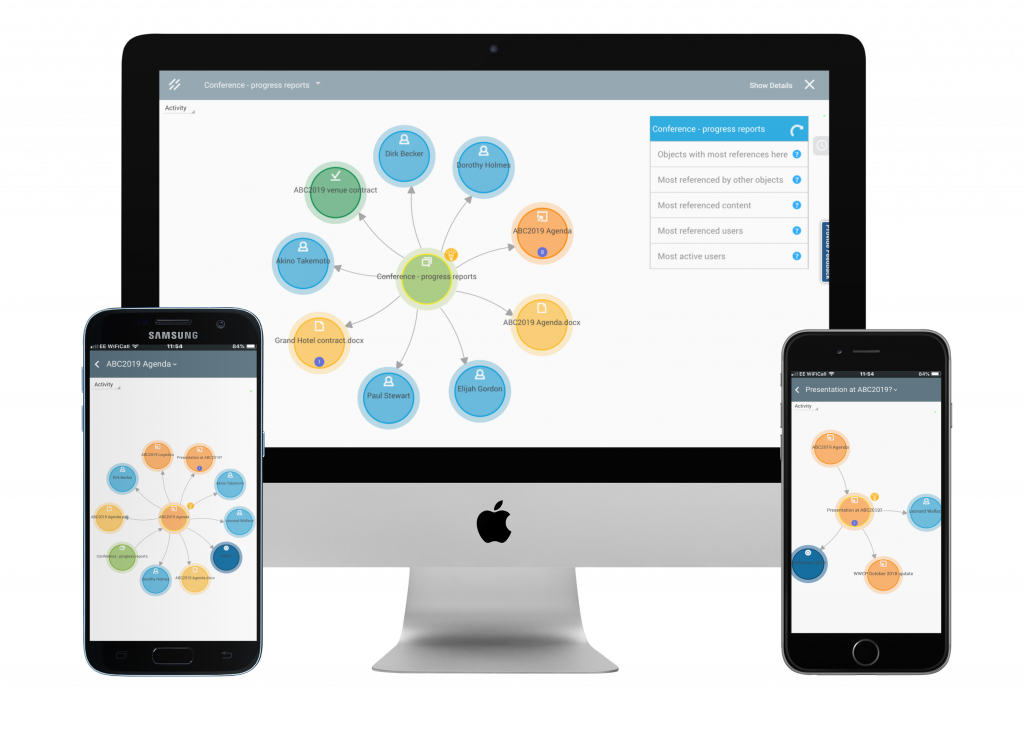 Capture Knowledge At Source
With Vmoso, you never need to go back and upload your content to a separate knowledge management system. It's directly integrated with the communication and collaboration features, so knowledge is captured at source, and made available for instant use.
Knowledge Maps
In Vmoso you create links between content as you work, building up a seamless web of collective knowledge. Vmoso Knowledge Maps visualize this making it easy to retrieve information whenever you need it.
Today's Conversations Are Tomorrow's Knowledge
Every message you send in Vmoso is retained. So when you need to go back and find information later, it's ready for you, not buried in an inaccessible email archive.
Collaborative Process Management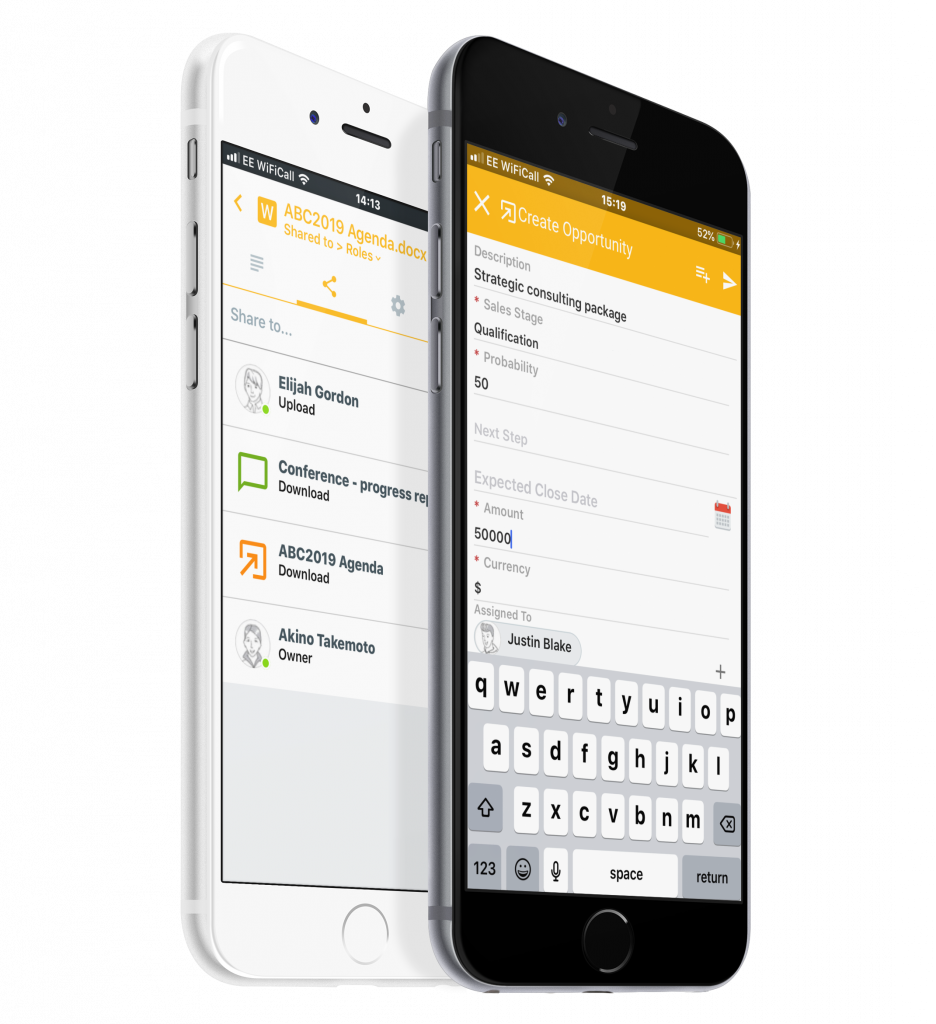 Bring structure to your collaboration
Don't let your collaboration descend into a chaotic storm of email messages. Organize the participants and define the steps that need to be performed to ensure tasks are completed quickly and accurately.
Add accountability to your communication
Task assignments mean everyone knows what they need to do, when they need to do it. And task assigners can see at a glance who's completed their actions, and who's the bottleneck in the process.
Maintain flexibility
Life can be unpredictable. Vmoso never removes the flexibility to change the direction of a task if circumstances change. Collaboration and communication is built into every step of the process.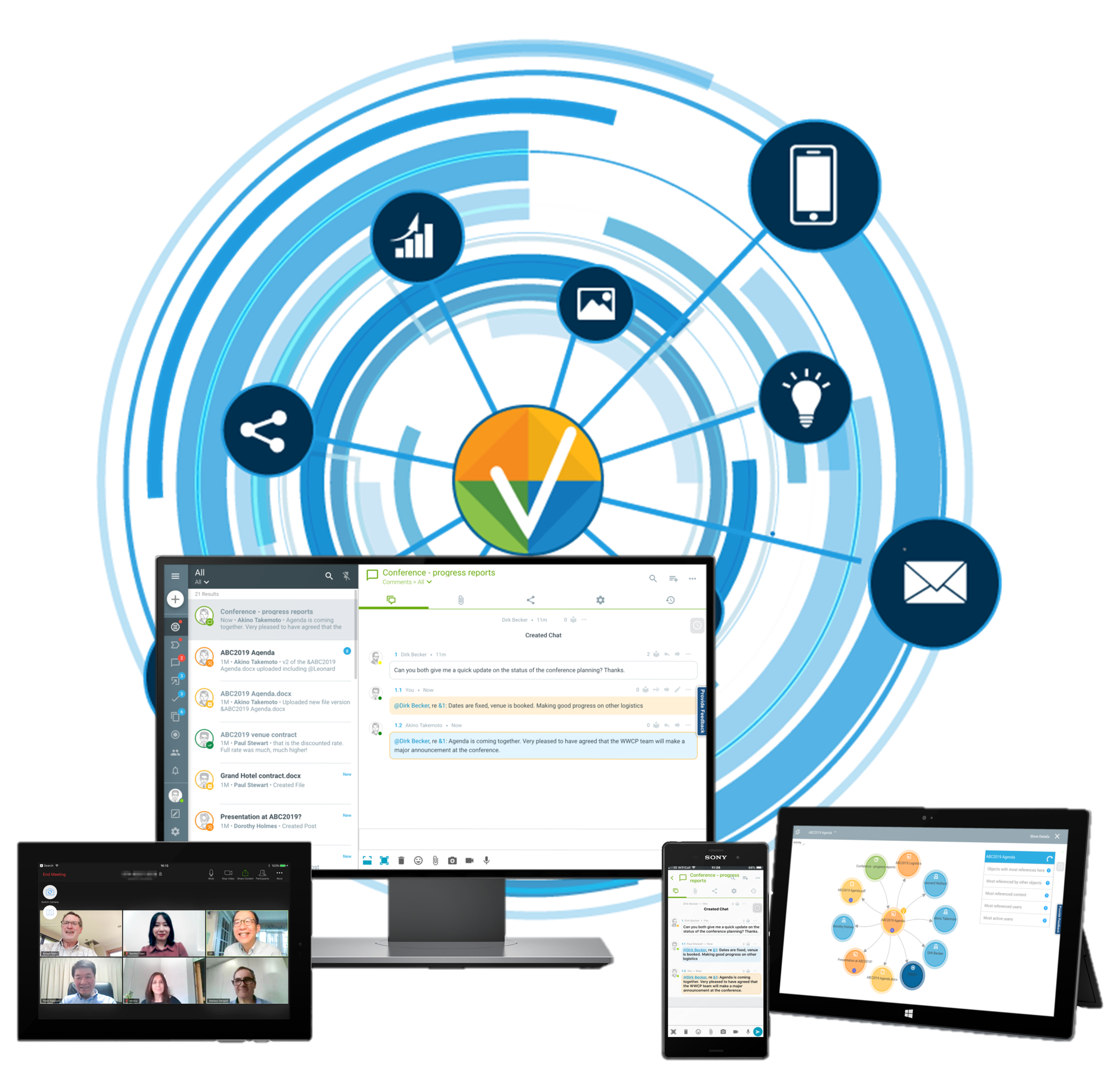 Architected for Integration
The last thing any company needs right now is yet another standalone communication tool. The digital workplace needs to be integrated into legacy communication systems like email, and into the systems of record that power your business, your ERP, PLM, CRM systems. These often form the context and trigger for any collaboration going on around the company. And tightly integrated with web conferencing and VOIP solutions such as Zoom, Vmoso further enhances tele-work experience for both instant and pre-scheduled meetings.
Open API
Vmoso's extensive API enables developers to connect to mobile apps, enterprise systems and other messaging platforms.
Vmoso Developer Network
The Vmoso Developer Network is a resource for developers, maintained by a community of developers and technical writers for hosting documents and examples related to Vmoso APIs and the Vmoso Developer Kit.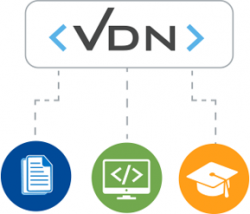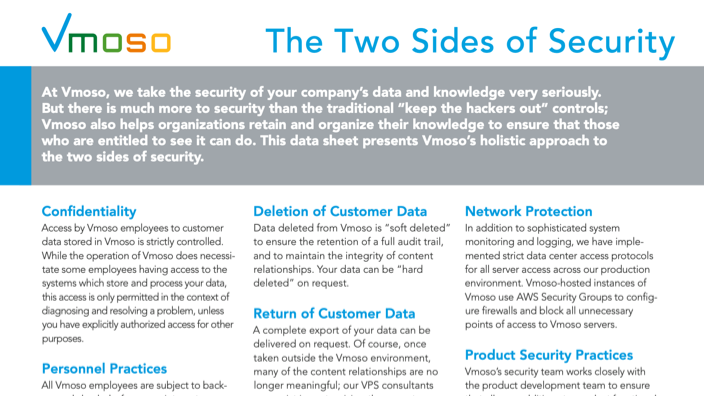 The Two Sides of Security
At Vmoso, we take the security of your company's data and knowledge very seriously. But there is much more to security than the traditional "keep the hackers out" controls; Vmoso...